BOOK YOUR HOLIDAY PARTY TODAY!!
Perfect space for parties of 5 to 25.
What better way to show your appreciation to your employees than to have a fun party where you take home a painting?
Choose from many different subjects to paint. For your convenience, we can accommodate day, afternoon, evening, weekday, or weekend. You can bring in your party food and beverages to serve.
Even though many people believe, in the beginning, that their painting will not turn out well, most will still feel sense of accomplishment once their painting is complete. Not to mention, everyone will have a great time laughing, drinking, eating and, if it's a corporate painting party, get to know each other a little bit better!
While a painting party has quickly become something individual's choose to have in celebration of their birthday, and that restaurants are hosting to raise money for charities, businesses can also hold a party as a team building event. Even better yet, if business owners are looking for something different to do this year for their holiday party, considering a holiday painting party is a great idea!
A painting party might be more "low-key," but it will definitely get your employees talking.
As we mentioned above, a paint party is a great team building activity. Everyone will be painting the same image (they will all be discussing the same thing) and, they will be working towards one common goal (to complete their painting). So, no matter what position they are at in the company, they will all be on the same page at the holiday party. Unless, of course, there are some artists in your organization!
Another benefit of having a painting party is that they can also be cost-effective for businesses that do not have a big budget for their holiday party. In fact, our 16×20 paintings are just $35, and you get all of the supplies you need for your employees to paint, as well. And, don't forget that if you host the holiday painting party at the office, it will be much cheaper than going out to a bar or restaurant because you can buy the drinks, and order the food on your own!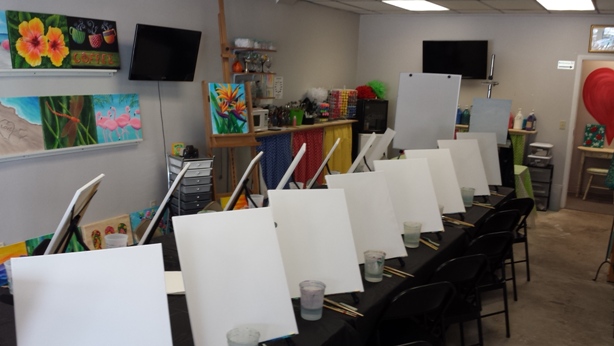 RESERVE YOUR SPACE NOW!
Have a painting party for your employees, friends, club members, church, or just for fun!
Birthday parties, bachelorette parties, bridal showers, ladies night out, team building, and any other event you wish to celebrate with others.
We offer family parties, paint and sip parties age 21 and over, and children parties.
Have your party at our clean and spacious art studio or we can bring the party to you.
Create a masterpiece with your friends and coworkers while sipping your favorite beverage. Our talented instructors will guide you step by step. No experience necessary. We provide all supplies including canvas, paint, brushes, easels, aprons, plates, cups, and entertainment.
We ask that you book your party a minimum of 2 weeks in advance.
All parties are minimum 4 people or $100.
Please make sure to choose your subject you want to paint at least one week prior to event.
Parties lasting longer than 4 hours will be charged an additional $25 per hour.
Payment must be received either online or by phone at least 1 week prior to event.
No Groupons, Living Social, or other special offers are valid for Private parties.
"ON LOCATION" parties:
Parties at your location will be charged $35 per person or a minimum of $150.
Someone from our studio will need to come see your location to make sure it is suitable.
Please remember, these are paints and they do not wash out of carpet, curtains, furniture, clothes, or anything it may get on.
We are not liable for any damage to your location.